EDIT MAIN
Exceptional Children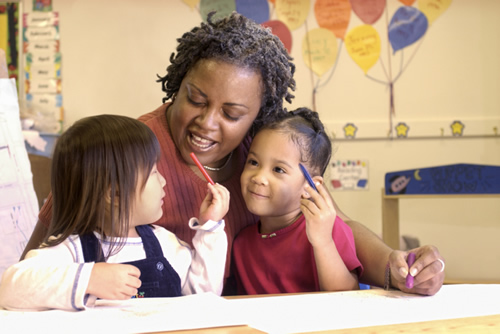 WELCOME!
The Public Schools of Robeson County (PSRC) provides special education and related services according to the federal mandates of the Individual with Disabilities Education Act and the regulations of the North Carolina Public School Law, Article 9.The PSRC Exceptional Children's Department serves 4500 students with special needs, ages 3-21. The school system provides a continuum of services to meet individual student needs. Whenever possible students are served in schools in their base attendance area with support from special education and related services and/or building modifications.
Shining Stars Preschool offers services to preschool children ages 3-5. Preschoolers and school age students are identified and provided with appropriate special education services in accordance with the tenets of IDEA. Prior to receiving special education services from a special education teacher, students are evaluated at the request of the parent, legal guardian, or the child's teacher to determine if a disability is evident as defined by the North Carolina Department of Public Instruction.
Students are evaluated by a licensed school psychologist with the approval of the parent or legal guardian. At the conclusion of all evaluations, results are shared with the parent, legal guardian and teachers at an eligibility meeting in the child's school. If the evaluation confirms the child has a disability, an individual education program (IEP) is developed with parental input. The individual education program (IEP) specifies the supports and related services needed for the student to be successful during the school day. The individual education program is updated annually or at the request of the parent if needed.
The identified Exceptional Student in the Public Schools of Robeson County receive special services based upon disabilities in these areas:
autism spectrum disorder
deaf-blindness
deafness
developmental delayed
emotional disability
hearing impairment
intellectual disability
multi-disabilities
orthopedic impairments
other health impairment
specific learning disability
speech or language impairment
traumatic brain injury
visual impairment including blindness
What to do if you are new to Robeson County - Enroll your child in your district. Bring your child's IEP from the former school to the new school. Give it to the Exceptional Children's Chairperson. We will then have a meeting and implement the IEP as closely as we possibly can.
What to do if the school in which your child would normally attend may not have the appropriate setting - It takes a few days to make changes. The IEP team will convene a meeting to help to determine an appropriate setting.
What to do if you do not agree with the school choice - The school choice is determined by the IEP team. If you do not agree, you will have to contact the Assistant Superintendent of Administration and Technology at 910-671-6000 ext: 3101 for an out of district transfer.
The Public Schools of Robeson County, in accordance with federal/state legislation, provides equal employment opportunity for all applicants without regard to race, sex, color, creed, national origin, age or handicap.
FEDERAL PROGRAMS SERVICES