EDIT MAIN
Indian Education Program
P.O Box 847
818 West 3rd Street
Pembroke, NC 28372
910-521-2054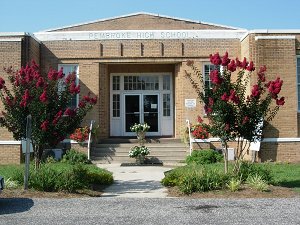 Title VI Indian Education Program
Funded by a grant from the US Department of Education, Office of Indian Education, the Indian Education Title VI Program serves over 11,300 American Indian K-12th grade students and is one of the largest in the United States. The grant's major goals are to increase reading, math and science scores, increase the graduation rate, and decrease dropouts. The program staff includes Youth Development Specialists (YDS) who are assigned to each school.
The program provides parents and students with daily access to the computer lab, library materials, and year-round tours of the museum and art gallery. The elected parent committee meets monthly to advise and monitor the program.
Services for students include: attendance monitoring, conferences, reading, math and science tutorial and enrichment, cultural enrichment, Native American Student (NASA) and American Indians in Science and Engineering (AISES) Clubs, financial assistance with SAT, ACT, and college applications. The students participate in local, state, and national conferences.
The resource center sponsors an After Hours Cultural Academy, Saturday Academy, Summer Enrichment Camp, Native American Student Association (NASA) clubs and NASA Day for middle and high school students, American Indian Science and Engineering (AISES) Club activities. The program also hosts yearly Reading, Scholarship, College, AISES Science Fair, and a Summer Camp workshop. The program coordinates annual school-wide Indian Heritage Month programs.
You may visit us or contact the Indian Education Resource Center (IERC) at 910-521-2054 or the Youth Development Specialist at each school when needed.