EDIT MAIN
PBIS Coaches and Trainers
2013-2014 PBIS Coaches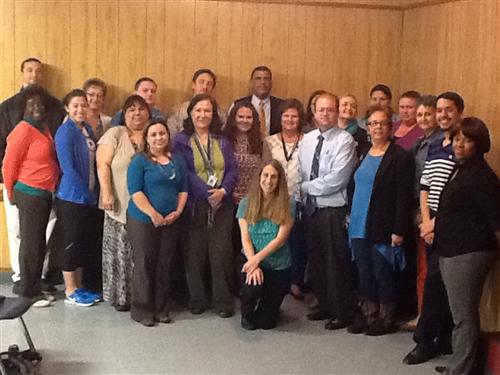 Each of Robeson County's 34 K-8 schools have a PBIS Team that has 1-2 coaches. Coaches are responsible for making sure the PBIS Team works efficiently and that the staff at each school are well informed about the school's current discipline data as well as tips and training to make classroom teachers more effective. They train the teachers in reinforcements and consequences to deal with problem and appropriate behavior as it happens. Our coaches meet at least four times per school year in order to be up to date on all policies where PBIS is concerned as well as to network, share ideas, problem solve, and celebrate successful implementation as school leaders in the PBIS initiative.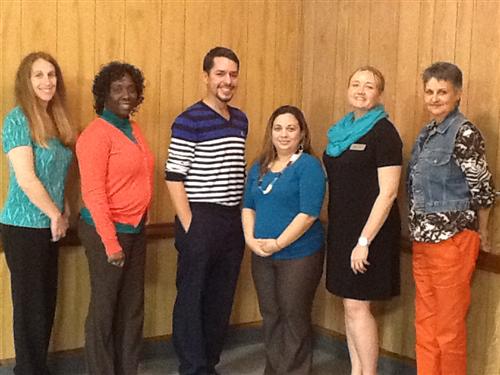 Pictured From Left To Right-Pam Day (EC Teacher, Tanglewood Elem.), Garbriella McEachern (5th Grade Math, Townsend Middle), Adam Efird (General Music, Rex-Rennert Elementary), Kim Demery (Kindergarten, West Lumberton), Leslie Lowery (PSRC PBIS Coordinator), and Belinda Harris (School Counselor, Union Elementary). Not pictured are Ruthie McDowell (ISS Coordinator, Townsend Middle), Kattie Zimmerman (School Counselor, Rowland-Norment Elementary), Darlene Cummings (Principal, Pembroke Middle), and Jill Hathaway (Principal, Piney Grove Elementary).
PBIS Trainers have been through all three training modules of PBIS as well as having presented the module training to various staff in Robeson County. They come from a variety of grade levels and departments so that teams receiving training are exposed to a variety of viewpoints and ideas for dealing with student behavior and PBIS implementation.
Two trainers, Pam Day and Kim Demery, also serve as PBIS Schoolwide Evaluation Tool (SET) evaluators. They assist the LEA Coordinator and Behavior Support staff in administering SET evaluations yearly to our 34 schools that implement PBIS.