EDIT MAIN
School Counseling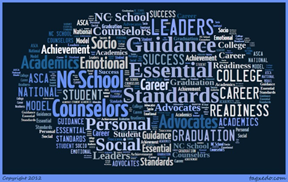 Providing each of our schools with a professional school counselor is a commitment of the Public Schools of Robeson County. By ascertaining the needs of the students and the school the counselor is able to respond appropriately to those needs through best practices and quality standards. Schools need counselors adept at creating systems for change and at building relationships within the school community for the demands of 21st-century education. A 21st-century comprehensive counseling program includes counselor competency in these areas:
The professional identity of the school counselor
The role of the school counselor in leadership, advocacy, and systemic change
Legal and ethical guidelines
Cultural diversity and societal change and trends
Human growth and development
Career development
The core components for helping relationships
Group and individual work
Assessment of student needs
Research and program evaluation
School culture and mission
The roles of other educational professionals and stakeholders
The Public Schools of Robeson County is extremely proud and privileged to employ school counselors who have achieved the status of North Carolina Licensed Professional Counselors, Nationally Certified Counselors, National Board Certified Counselors in addition to our counseling professionals who have been recognized as State and National Counselors of the Year.
Philosophy: The School Counseling Department of the Public Schools of Robeson County will partner in students achievement to ensure student success through a data-driven, developmental, comprehensive program.
Mission: As Professional School Counselors of the Public Schools of Robeson County, our mission is to partner with students, family, school and community. Our program advocates for the development in the areas of academic, social-emotional and career strengths.
Beliefs:The School Counselors in the Public Schools of Robeson County Beliefs:
1. School Counselors respect ethnic, gender, cultural and racial diversity
2. School Counselors inspire student lifelong learning through promoting career & college readiness
3. School Counselors promote a safe, nurturing environment
4. School Counselors are guided by the Ethical Standards of the American School Counseling Association
School Counselor's Office Number Directory