EDIT MAIN
About Us
---
Red Springs High School is one of the six high schools in Robeson County and serves a rural and ethnically diverse community. The high school is located in the southeastern corner of Robeson County in the town of Red Springs, North Carolina. A wide variety of programs and activities are offered to enhance the academic and vocational development of students in grades nine through twelve.
There are three main buildings that house the vocational, academic, and physical education programs. A football stadium and field house for athletics was completed in 1999. Paved track and tennis courts are available on campus and are utilized by the students, as well as the community.
Red Springs High School serves several ethnic groups including: Native Americans, African Americans, Caucasians, Hispanics, Multicultural, and others.
The Robeson County Career Center, is an extension of the Public Schools of Robeson County and offers a variety of vocational courses. The career center provides an opportunity for students to study courses that are not readily available at our school.
Red Springs High School offers Advanced Placement and Honors courses in the following areas: Literature, Composition, and Calculus. Students are placed in these classes based on teacher recommendation along with student and parental requests. Although the courses are open to all students, teachers and guidance counselors work with students closely to ensure their success in their chosen courses.
---
Mission Statement
"RSHS provides an academic foundation that will educate, enhance, encourage, and empower all students to be responsible lifelong learners in an ever-changing technologically advanced global society."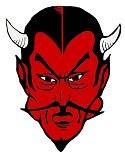 ---
2018-19 Bell Schedule