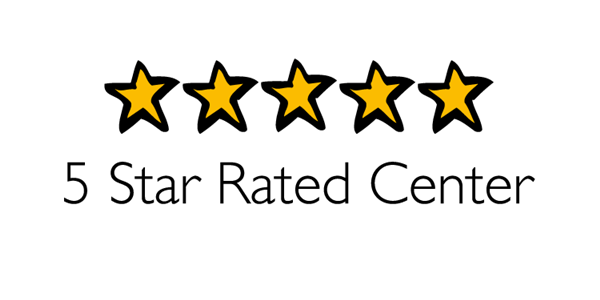 The North Carolina Division of Child Development and Early Education (NCDCDEE) issues star rated license to child care centers and homes that are eligible.
The star rating is based on two factors: program standards and staff education.
One star means that a child care center or preschool meets the minimum licensing standards for child care. Two to five stars mean that the child care center voluntarily chose to meet higher standards than the minimum, and to what degree. Both of Shining Stars Preschools have been rated five stars, meaning that they well exceed the standards that North Carolina sets for preschools and child care centers.
Program standards are evaluated based on the size, variety, and cleanliness of the play and activity area; the number of staff per child; and interactions the young children have with adults, each other, and their activities. For a preschool that seeks a five star rating, an environmental rating scale is also completed, which is determined by evaluators visiting the location to observe children in the environment to see how often good health practices are followed, how well interactions with children go, the amount and nature of activities offered, and the overall safety of the area.
Education standards are not reflective of the program given, but rather the level of education the administrator and staff have achieved. To receive a minimum star rating, the lead teacher must have at least received a North Carolina Early Childhood Credential. Higher star ratings are determined by the education and experience levels of the administrator and teachers, the number of child care credentials held by teachers, and the number of teachers with formal education and experience.
A five star rated preschool reflects that the staff are extremely well educated and experienced in early childhood development and learning. This level of expertise results in better management of the center and better experiences and learning for your children.