BOXTOP$ FOR EDUCATION PROGRAM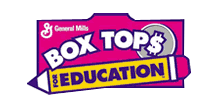 We encourage you to support your local school by saving the tops from specially marked cereal and other General Mills products like Betty Crocker fruit snacks, Yoplait yogurt, Lloyd's Barbeque Buckets and General Mills Foodservice products (click here for a complete list of products). Look for the Box Tops logo on General Mills packages, cut the top off and save them. Collecting the Box Tops helps earn cash for your local school. Our schools get ten cents for every box top they collect!
Please remember to check the date on the Box Tops. General Mills will not accept expired Box Tops.
For additional information on the program, visit boxtops4education.com.