EDIT MAIN
Accessibility Training
Nucleic Acid
Nucleotides
Nucleic acids are biopolymers, or large biomolecules, essential to all known forms of life. They are composed of monomers, which are nucleotides made of three components: a 5-carbon sugar, a phosphate group and a nitrogenous base. If the sugar is a simple ribose, the polymer is RNA (ribonucleic acid); if the sugar is derived from ribose as deoxyribose, the polymer is DNA (deoxyribonucleic acid).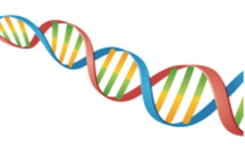 Nucleic acids are the most important of all biomolecules. They are found in abundance in all living things, where they function to create and encode and then store information in the nucleus of every living cell of every life-form organism on Earth. In turn, they function to transmit and express that information inside and outside the cell nucleus—to the interior operations of the cell and ultimately to the next generation of each living organism. The encoded information is contained and conveyed via the nucleic acid sequence, which provides the 'ladder-step' ordering of nucleotides within the molecules of RNA and DNA.
Strings of nucleotides are bonded to form helical backbones—typically, one for RNA, two for DNA—and assembled into chains of base-pairs selected from the five primary, or canonical, nucleobases, which are: adenine, cytosine, guanine, thymine, and uracil; note, thymine occurs only in DNA and uracil only in RNA. Using amino acids and the process known as protein synthesis,[3] the specific sequencing in DNA of these nucleobase-pairs enables storing and transmitting codedinstructions as genes. In RNA, base-pair sequencing provides for manufacturing new proteins that determine the frames and parts and most chemical processes of all life forms.
Adenine
Cytosine
Guanine
Thymine
PSRC Webmaster List

| LEA# | School | Webmaster | Email Address |
| --- | --- | --- | --- |
| 331 | Career Center | Maynor, Michael | michael.maynor@robeson.k12.nc.us |
| 330 | Carroll Middle | Ryberg, Bobbie | bobbie.ryberg@robeson.k12.nc.us |
| 320 | Deep Branch | Hardin, Rae Don | raedon.hardin@robeson.k12.nc.us |
| 385 | Early College | Strong, Audrey | audrey.strong@robeson.k12.nc.us |
| 322 | East Robeson | McCormick, Bettina | bettina.mccormick@robeson.k12.nc.us |
| 324 | Fairgrove Middle | Cummings, Carol | carol.hunt-cummings@robeson.k12.nc.us |
| 325 | Fairmont High | Oxendine, Thomas | thomas.oxendine2@robeson.k12.nc.us |
| 326 | Fairmont Middle | Ward, Shauna | shauna.ward@robeson.k12.nc.us |
| 328 | Green Grove | Mitchell, Teresa | teresa.mitchell@robeson.k12.nc.us |
| 329 | Hargrave | Hawkins, Meropi | meropi.hawkins@robeson.k12.nc.us |
| 336 | Littlefield | Humphrey, Cindi | cindi.humphrey@robeson.k12.nc.us |
| 340 | Long Branch | Lange, Rohonda | rhonda.lange@robeson.k12.nc.us |
| 342 | Lumberton High | Kinlaw, Angela | angela.kinlaw@robeson.k12.nc.us |
| 341 | Lumberton Jr. | King, Phyllis | phyllis.king@robeson.k12.nc.us |
| 344 | Magnolia | Chavis, Jonie | jonie.chavis@robeson.k12.nc.us |
| 352 | Orrum | Taylor, Amy | amy.taylor@robeson.k12.nc.us |
| 356 | Oxendine | Locklear, Jensine | jensine.locklear@robeson.k12.nc.us |
| 360 | Parkton | McNeill, Dwikeila | dwikeila.mcneill@robeson.k12.nc.us |
| 364 | Pembroke Elem. | Jones, Amy | amy.jones@robeson.k12.nc.us |
| 368 | Pembroke Middle | Sabol, Danielle | danielle.sabol@robeson.k12.nc.us |
| 374 | Peterson | Hammonds, James | james.hammonds@robeson.k12.nc.us |
| 376 | Piney Grove | Lowry, Delois | delois.lowry@robeson.k12.nc.us |
| 384 | Prospect | Woods-Jacobs, Lezile | lezlie.woods-jacobs@robeson.k12.nc.us |
| 420 | Purnell Swett | Locklear, Dwan | dwan.locklear@robeson.k12.nc.us |
| 390 | R. B. Dean | Charles, Katharine | katharine.charles@robeson.k12.nc.us |
| 391 | Red Springs High | Morgan, Jacquelyn | jacquelyn.morgan@robeson.k12.nc.us |
| 393 | Red Springs Middle | McMillan, Tiara | tiara.mcmillan@robeson.k12.nc.us |
| 392 | Rex Rennert | Deese, Catherine | catherine.deese@robeson.k12.nc.us |
| 394 | Rosenwald | Faulk, Collins | collins.faulk@robeson.k12.nc.us |
| 396 | Rowland Middle | Rogers, Bonnie | bonnie.rogers@robeson.k12.nc.us |
| 398 | Rowland Norment | Mercer, Sally | sally.mercer@robeson.k12.nc.us |
| S. Star | Shinning Star | Dial, Amy | amy.dial@robeson.k12.nc.us |
| 402 | South Robeson | Wilkins, Christina | christina.wilkins@robeson.k12.nc.us |
| 408 | Southside/Ashpole | Oxendine, Lisa | lisa.oxendine@robeson.k12.nc.us |
| 400 | St. Pauls Elem. | Lewis, Courtney | courtney.chavis3@robeson.k12.nc.us |
| 401 | St. Pauls High | Bishop, Daniella | daniella.bishop@robeson.k12.nc.us |
| 403 | St. Pauls Middle | Brown, Teresa | teresa.brown@robeson.k12.nc.us |
| 407 | Tanglewood | Godfrey, Mary | mary.godfrey@robeson.k12.nc.us |
| 410 | Townsend Middle | Hunt, Lateisha | lateisha.hunt@robeson.k12.nc.us |
| 412 | Union Chapel | Doeller, Jonah | jonah.doeller@robeson.k12.nc.us |
| 416 | Union Elem. | Locklear, Ana | ana.locklear@robeson.k12.nc.us |
| 417 | W. H. Knuckles | Stephens, Angela | angela.stephens@robeson.k12.nc.us |
| 418 | West Lumberton | Thomas, Stephanie | stephanie.thomas@robeson.k12.nc.us |