MIGRANT EDUCATION PROGRAM
KRAMDEN INSTITUTE - DESK TOP COMPUTER AWARDS FOR MEP STUDENTS
Free Desk Top Computers? What's the catch?
MEP COLLABORATION BETWEEN CHURCH WORLD SERVICE AND THE AMERICAN RED CROSS

This Summer Members of the Public Schools of Robeson County's Administrative Staff and Migrant Recruiter Serilda Goodwin entered into a partner ship enabling the MEP Program of the PSRC to begin addressing issues MEP families face due to losses experience due to Hurricanes Matthew and Florence. The collaboration extended to support through a grant from the American Red Cross that is being used to provide shoes, clothing, books, air mattresses, bedding and other items families lost due to lost time at work, and items lost due to flooding and other issues experience due to the storms. We are thankful for this collaboration.
MEP AND THE ROBESON COUNTY COOPERATIVE EXTENSION
On Friday January 18, 2019 Serilda F. Goodwin [MEP Recruiter, PSRC] provided a brief presentation to tobacco farmers at the Robeson County Cooperative Extension. The event was organized by Mac Malloy [Extension Agent, Agriculture - Field Crops] and the overall purpose of the meeting was to discuss a range of topics that are affecting local agriculture — including losses due to Hurricane Florence.
Serilda Goodwin shared that her primary objectives for attending the gathering was to:
Increase awareness of the MEP program;

Share contact information and answer questions;

Expand and nurture the development of strategic partnerships with other agencies.
This opportunity and others like it helps the MEP program gather useful information about upcoming job leads and a vibrant, diverse network that can help the district maintain and/or increase enrollment —especially OSY.
Special thanks to Mac Malloy and the Robeson County Cooperative Extension for helping us to build a stronger program.
RAPID ASSISTANCE PROVIDED TO MEP FLORENCE SURVIVORS
Last fall Robeson County experienced yet another large scale disaster in less than two years as Hurricane Florence impacted our region. Four months later our community is still recovering from $1 Billion dollars in crop losses, damaged homes and schools, lost wages, food insecurity, emotional distress, and other challenges.
Building on the strategic partnership established with the Robeson County Disaster Recovery Committee [RCDRC] in the wake of Hurricane Matthew, PSRC's Migrant Education Program was able to provide $150 rapid assisstance gift cards to households enrolled in the MEP. As highlighted in this article, access to those client assistance cards was made possible through a grant that RCDRC recieved from Mercy Corps — a global team of humanitarians who partner with communities, corporations and governments to transform lives around the world.
Days after Florence, PSRC 's MEP program partnered with The Stimulus to develop a Hurricane Florence Rapid Needs Assessment, and the data collected helped PSRC quickly identify the most vulnerable MEP households.
A special thanks to The Stimulus, RCDRC, and Mercy Corps for helping the MEP family recover from Hurricane Florence.
DPI RECOGNIZES SERILDA GOODWIN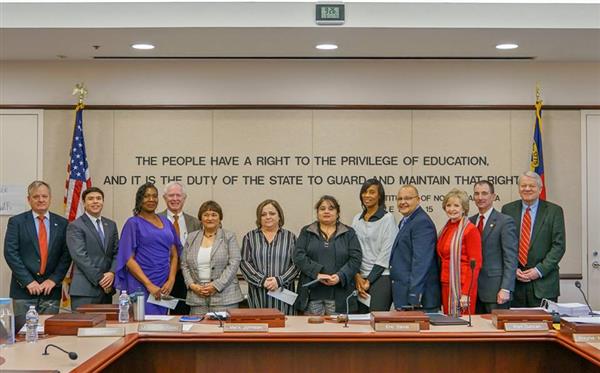 MEP Program Receives $4,000 Hurricane Florence Grant
On Thursday January 10, 2019 the State Board of Education recognized (4) Four PSRC Employees among the groups from across the state that were honored for their successful submission of FAST NC Grants. The PSRC employees are (3) teachers from Magnolia Elementary - Crystal McDonald, Erica Oxendine, Deanna Caulder and Migrant Education Recruiter Serilda Goodwin. Former State Superintendent's Mike Ward and June Atkinson welcomed and congratulated the FAST NC Recipients. FAST NC or Florence Aid to Students and Teachers of North Carolina is a bipartisan effort led by a group of current and former North Carolina education leaders to help the state's public schools as students and educators struggle to return to normal following Hurricane Florence and its impact. NC State School Board Member Dr. Olivia Oxendine also attended Magnolia Elementary and mentioned her connection to the community before the recognition. The NC State Board's recognition took place at the Department of Public Instruction building in Raleigh.
The $4,000 FAST NC grant will be used to replace books, supplies, food, and IPad accessories that were lost during the flood.