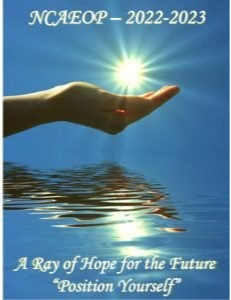 Hello Everyone,
It is with great pleasure once again that I have been chosen to serve as your PSRCAEOP President for 2022-2023.
The theme for this year is A Ray of Hope for the Future "Position Yourself." When I think about a Ray of Hope, I also think about the saying "A Ray of Sunshine." We can all be a Ray of Hope in someone's life if we position ourselves. It could be as simple as saying Hello or smiling at someone as you pass by them. I know that the past few years have been hectic because of Covid. I Thank God that he saw us through it, and we are finally getting back to some Normalcy in our lives.
I want to challenge all Office Professionals to become that Ray of Hope and Sunshine for our organization this year. Be Supportive, Cooperative, Courteous, and Devoted to building the foundation we need to have for another excellent year for Public Schools of Robeson County Association of Education Office Professionals.
Again, Thank You for electing me as your local president, and I look forward to a year of being a Ray of Hope along with each one of you.
Sincerely,
Rosa L Locklear PSRCAEOP President