EDIT MAIN
Robeson Planetarium

-Directed by Ken Brandt
Our current run of Third grade virtual programs features the Mars rover Perseverance. These programs are happening daily, at various times Monday-Friday.
I have been busy during the pandemic. More than 150 virtual programs, presentations, and professional development activities have been done representing the Robeson Planetarium and the PSRC. Highlights include the presentation to more than 300 International Planetarium Society members, and the over 2,000 audience members reached during our virtual planetarium programs.
Current plans are to do virtual planetarium programs for our 3rd, 4th and 6th graders while we are virtually learning in plan C.
Private programs are available by emailing kenneth.brandt@robeson.k12.nc.us
Here's a link to a video I compiled about the Mars rover Perseverance
video about the Mars 2020 rover.
Good websites to go to and keep your brain active:
https://spaceplace.nasa.gov/ : links to many STEM related activities, games, and space resources
Storytime from Space (Astronauts aboard International Space Station reading picture books) https://storytimefromspace.com/
My Sky Tonight, activities for Preschool / early learners from the Astronomical Society of the Pacific. https://astrosociety.org/education-outreach/early-learners/my-sky-tonight.html
Khan Academy has a Cosmology & Astronomy section: https://www.khanacademy.org/science/physics/cosmology-and-astronomy?fbclid=IwAR3GexU3_uKAsQYod4AGZlTpQ3DnzgiLDvS0v0dgeXrz0udjjpO7U7KKxRo
"Infiniscope's interdisciplinary online learning experiences bring Earth and space science to life. Each experience has resources for educators that include lesson plans, misconception alerts, and NGSS alignment documents. Create an account to enroll your students to save and track progress, view responses to embedded assessments, and identify learning gaps. Whether you are exploring Mars, investigating the extinction of the dinosaurs, or curious about the origins of life on Earth, Infiniscope's virtual field trips bring the wonder of Earth and space science to you"
https://www.zooniverse.org/projects/nora-dot-eisner/planet-hunters-tess : citizen science activities that allow you to discover planets orbiting other stars
https://www.nasa.gov/stem-at-home-for-students-k-4.html?fbclid=IwAR15acij5bXU2LyTwYBP1FqKrktiVZKgBf2zJQFzxZAg76w5ybCS_8BdZsE : NASA-compiled set of activities and such.
https://mysteryscience.com/school-closure-planning : lessons and activity videos sorted by grade level
https://www.calacademy.org/blogs/educator-news/learning-resources-for-students-at-home?fbclid=IwAR2M01PJGl_krvht_VTYe3a7QIWlw_IeYBHM-7dSyaFg0M0Bam0du4cw4WU : many self-guided tours of this world class institution
https://sites.google.com/dpi.nc.gov/remote-learning-resources/home?authuser=0 NCDPI compendium of assorted sites covering all subjects
https://unctv.pbslearningmedia.org/collection/universe/ : from NPR and WWGBH in Boston, this collection of resources sorted by grade level
Tweet us at @robesonplanet
https://www.facebook.com/RobesonPlanetarium/
Instagram link: https://www.instagram.com/robeson_planet/
https://en.wikipedia.org/wiki/Robeson_Planetarium_...
Check out our grade-level appropriate activities and resources on our links to the left.
All live programs for schools and the public are postponed until further notice due to the current executive order from Gov. Cooper to help prevent the spread of contagion.
The Rising Phoenix's page is here: http://www.robesonrisingphoenix.org/
Mars rover Opportunity's last panorama: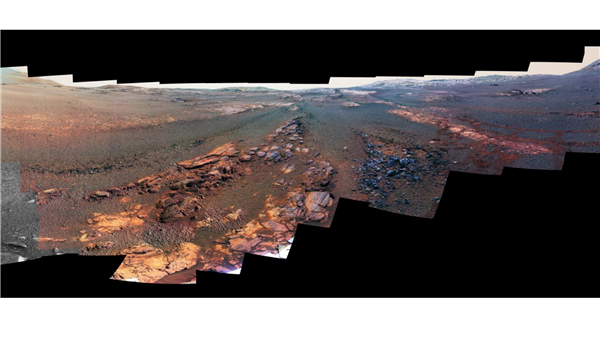 Or Email Ken Brandt
Please note that our schedule is subject to change, as current events in space science dictate.
For school groups: 20 students and 2 adults can be comfortably seated indoors
For information email
Clear Sky Clock
Weather: here is a link for our own clear sky clock. See whether it'll be clear or cloudy here in SE NC.