LUMBERTON – Multiple Public Schools of Robeson County graduates recently received scholarships to further their education, including a former student whose legacy will live on through his award.
Among scholarship recipients were Purnell Swett High School graduate Jada Coward, Fairmont High School graduate Faith Johnson, and Red Springs High School graduate Jaydyn Turner.
The graduates were presented the $1,250 Embetterment Award scholarship from Community Made Incorporated.
Tanisha Coleman, also received a separate scholarship award given in memory of her late son Marqueise Coleman, a standout athlete and 2020 St. Pauls High graduate who was gunned down in July 2021.
Coleman said her son was given the scholarship in 2020. Half of the funding was awarded in 2020 and the other half at the beginning of last year, she said.
Coleman expressed gratitude for the presentation of the award.
She plans to put some funding towards a foundation in her son's memory which seeks to provide opportunities for student- athletes through financial support like scholarships, Coleman said. She also will use some funding to purchase school supplies for a back-to-school event in St. Pauls.
"It's an honor to do that," she said of using scholarship funds to help others.
The scholarships are typically awarded during each school's senior awards program.
Community Made Inc. is a 501 c3 nonprofit that is sponsored by Peterkin Law Firm and other community supporters.
The organization has been providing scholarships for eight years in Robeson County.
"This year we have expanded to Hoke and Cumberland Counties. We have tailored our scholarship program to include high school graduates who have specific plans to improve their lives. This includes going to college, starting a business, or earning a license or certificate," the company said in a statement.
The Public Schools of Robeson County would like to express gratitude for organizations like Community Made Inc. that continue to invest in the future and success of our students.
During the 2020-21 school year, the following scholarship funds from various sources and organizations were awarded to select PSRC students at the following schools: $393,484 to PSRC Early College at Robeson Community College students; $365,522 to Fairmont High School students; $2,591,199 to Lumberton Senior High School students; $540,633 to Purnell Swett High School students; $107,630 to Red Springs High School; and $980,747.56 to St. Pauls High School students.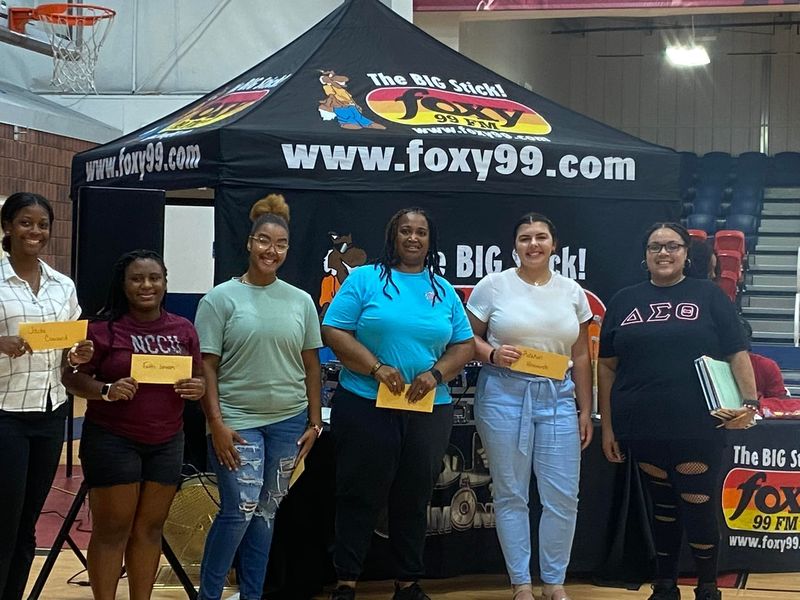 Public Schools of Robeson County graduates Jada Coward, left, Faith Johnson and Jaydyn
Turner, stand recently with Tanisha Coleman, the mother of the late St. Pauls High graduate
Marqueise Coleman, Rebekah Hammonds, of Hoke County School District, and Gabrielle Blue,
a Community Made board member. The photo was taken during a presentation of scholarship
funding to students from Community Made Inc. [Photo Courtesy of Community Made Inc.]