LUMBERTON – More than 400 educators participated in an educational leadership training session Monday to enhance classroom management and instruction ahead of the school year.
The two-day training session, which will include participation from more than 800 educators, was held in the Southeastern Agricultural Center and will conclude Tuesday.
Author and Speaker Paul Bambrick-Santoyo, founder and dean of the Leverage Leadership Institute and chief Schools officer for Uncommon Schools, led teachers through various exercises to highlight needs, gaps and opportunities for improvement for students mentioned in various scenarios.
"The future is bright in Robeson County and we're just highlighting what we've known about best practices for years, that great instruction is not just about how you teach, it's whether students learn," Bambrick-Santoyo said.
Bambrick-Santoyo said when students do not learn, the key is to find out why and to incorporate stronger, more effective teaching practices to reach them.
Bambrick-Santoyo, author of Leverage Leadership 2.0, used clips and scenarios to train educators about effective leadership and communication.
Dr. Windy Dorsey-Carr, executive director for Transformation at PSRC, reminded educators of the district's work to add additional resources to enhance support such as academic coaches. More resources include actions like providing additional training and adding an assistant principal to each school to support principals.
Dr. Dorsey-Carr said the training is an additional measure to help the district "ensure equitable education" across schools.
"We want to ensure that we're watering up and not watering down our curriculum," Dr. Dorsey-Carr said. "We have to accelerate the process so that we as a district can get better faster."
The school district is a pilot for North Carolina with the implementation of a model to enhance school instruction and leadership. Funds from North Carolina Department of Public Instruction and PSRC will support the effort in three PSRC school cohorts across three years for the district to act as a statewide model and proof point and national model through RELAY.
"What's happening in the PSRC is a model for what's gonna happen in low performing schools all across the state," said Dr. Ron Hargrave, PSRC district leadership coach and the executive director for Sandhills Regional Education Consortium.
"We need things to change not only in this district but for students across the state," he said.
The pilot is a result of a partnership with NCDPI and Relay/Graduate school of Education as part of the North Carolina Instructional Leadership Academy. The partnership resulted from collaborative efforts between the district and the Office of District and School Transformation (NCDPI).
"It is imperative that we give them the best opportunity that we can to be successful and that begins with you," Dr. Hargrave said.
PSRC Superintendent Dr. Freddie Williamson said the training was informative and essential to enhancing leadership in the classroom and providing needed educational support across the district ahead of the school year.
"Providing training and professional development to teachers and school administrators is a critical investment in the education and future of our students," Dr. Williamson said.
"We would like to thank Paul Bambrick-Santoyo for his presentation and commitment to enhancing the work of educators within the Public Schools of Robeson County," he added.
About Paul Bambrick-Santoyo
"Bambrick-Santoyo has trained over 30,000 school leaders worldwide in instructional leadership, including multiple schools that have gone on to become the highest-gaining or highest achieving schools in their districts, states and/or countries," according to uncommonschools.org.
For more information, visit www.uncommonschools.org.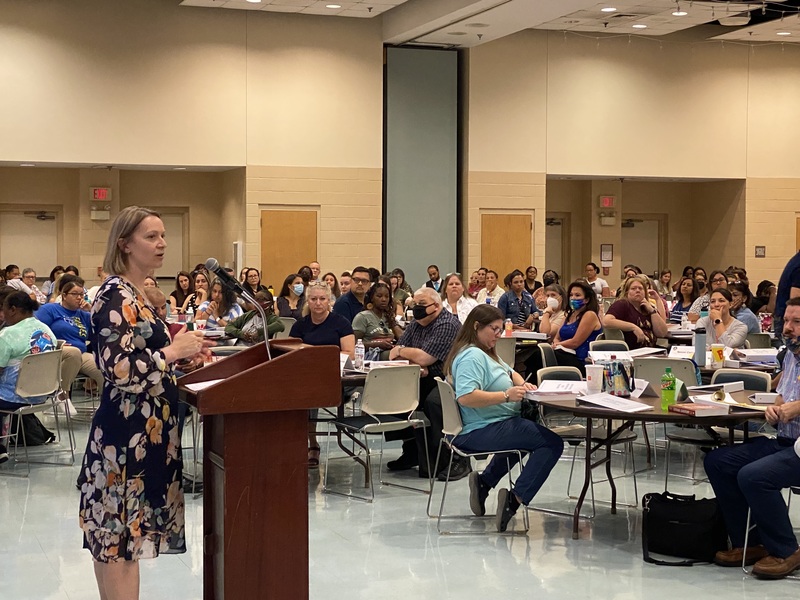 Dr. Windy Dorsey-Carr, executive director of Transformation at PSRC, at the podium, speaks Monday to educators during a training session at the Southeastern Agricultural Center. The two-day training session includes practices to enhance instruction and classroom management.