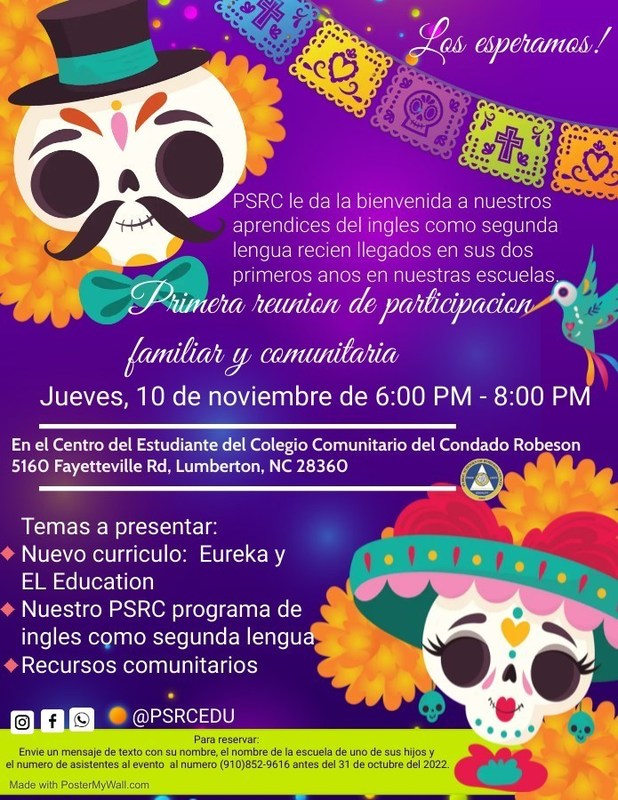 The multilingual learner program of PSRC welcomes our multilingual learners and their families who have enrolled in our schools in years 1 and 2 to attend a meeting on November 10th from 6:00 p.m. - 8:00 p.m. at the student center RCC.
Our volunteer ML staff members will present about our multilingual learner program and its educational purpose. Additionally, our new curriculums: Eureka Math and EL education will be explained through practical applications, and finally, at the end of the session, our multilingual families will familiarize with community resources in the area for speakers of languages other than English.
Follow the directions below in the flyer for making reservations.
_______
El programa de aprendizaje multilingüe de PSRC da la bienvenida a nuestros estudiantes multilingües y sus familias que se han inscrito en nuestras escuelas en los años 1 y 2. Durante esta reunión el 10 de noviembre de 6:00 p.m. - 8:00 pm. en el centro de estudiantes RCC, nuestros miembros voluntarios del personal de ML presentarán nuestro programa de aprendizaje multilingüe y su propósito educativo.
Además, nuestros nuevos planes de estudio: Eureka Math y educación EL se explicarán a través de aplicaciones prácticas y, finalmente, al final de la sesión, nuestras familias multilingües se familiarizarán con los recursos comunitarios en el área para hablantes de idiomas distintos al inglés. Siga las instrucciones a continuación en el folleto para hacer reservas.