NC CAREER READINESS CERTIFICATION (CRC)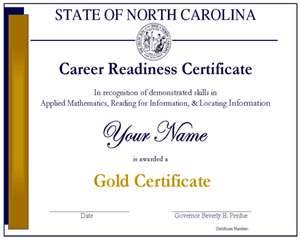 The Career Readiness Certification (CRC) certifies that job seekers have the core employability skills required across multiple industries and occupations. It is a portable credential that promotes career development and skill attainment for the individual and confirms to employers that an individual possesses basic workplace skills in reading, math, and locating information - skills that all jobs require. The three assessments that make up the CRCs are Applied Mathematics, Locating Information, and Reading for Information and are awarded on four levels: Bronze, Silver, Gold and Platinum. Visit the CRC website at www.crcnc.org.

If you want to be adequately prepared for the workforce, you need to understand the requirements for jobs you are considering. WorkKeys helps determine the skill levels for various jobs. WorkKeys is a job skills assessment system measuring "real world" skills that employers believe are critical to job success. These skills are valuable for any occupation-skilled or professional- and at any level of education. When you use WorkKeys to show you are ready for work, you have an advantage with employers who accept or require job applicants to have WorkKeys scores. A growing number of states nationwide also are adopting WorkKeys to ensure that all their workers have needed skills. WorkKeys assesses nine skill areas: Applied Mathematics, Applied Technology, Business Writing, Listening, Locating Information, Observation, Reading for Information, Teamwork, and Writing. Each WorkKeys assessment has a score level range which is usually 3 to 7. The scores indicate an individual's ability to perform more complex skills as the score level increases.