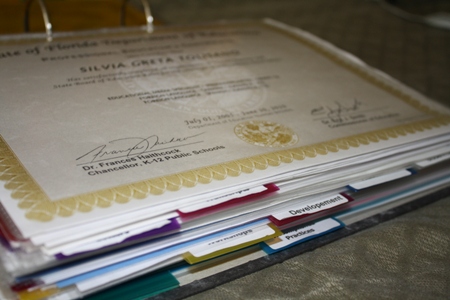 Your Professional Notebook: Six Essentials
Evaluations
Keep copies of any documents you create or use during your evaluation process. Such documents may include your self-assessment, your Professional Development Plan (PDP, your lesson plan and the evaluation itself.
Professional Development
Keep certificates or any documentation that you receive from attending and participating in staff development. You can provide these as evidences/artifacts during your evaluation post-conferences with your administration.
Contracts, Teaching License, etc.
Keep a copy of every contract you sign in your notebook. It's also a good idea to include your district's salary schedule and your certification papers/teaching license.
Lateral entry should keep a copy of your plan of study to keep up with required coursework
Mentor Contact Logs
Keep copies of your mentor-mentee contact logs as evidence that you are meeting with your mentor.
PSRC Online Policy Manual
The online manual provides the board of education's policies and related regulations in a fully searchable, easy-to-use format. The policy is accessible on the PSRC web site (Policy Manual).
Legal/Liability Protection
If something out of the ordinary happens, jot down details while they're still fresh in your mind, including names, locations and time. Unfortunately, teachers need to be lawsuit-conscious, so be prepared by keeping concise, complete records.

All beginning teachers are given a notebook in which to maintain a cumulative file of records. Please complete the top portion of the BT information/verification sheet and turn in during your induction or you may turn it in to your mentor at your first meeting. This document will be kept on file in the HR office and verified at the end of each school year.
In order to verify that all requirements are met, beginning teachers must produce the following documents:
(1) Professional Development Plan (PDP) fully completed (to be filed in your notebook).
(2) All (4) observations, including your summative evaluation (to be filed in your notebook).
(3) Support team contact log (to be filed in your notebook).
(4) Professional development log (to be filed in your notebook).
Notebooks will be checked periodically by mentors/Human Resource Specialist. You should be able to provide the notebook at initial request of mentor and/or Human Resource Specialist.